I can't possibly complete every idea that pops into my head. I was praying just last night that God would give me some productive and profitable outlet other than just making stuff for my own family and gifts for all these ideas! I can't seem to settle on one thing to make and sell on etsy yet. But I really believe creativity is from God. He's the ultimate Creator, after all! So I refuse to feel guilty for having this need to create.
That said, there are simply too many ideas and my family only needs so many things and I can't afford to make everything I think of! Here are two I've had on my mind but can't complete right now. I'm sharing them just in case you're dying for a project :)
My first idea was for burlap storage buckets. Joann's had some really cute
printed
burlap which inspired this idea, but the more I thought about it, you could make a stencil and paint your own with initials or numbers, whatever you like!
I was thinking something along these lines...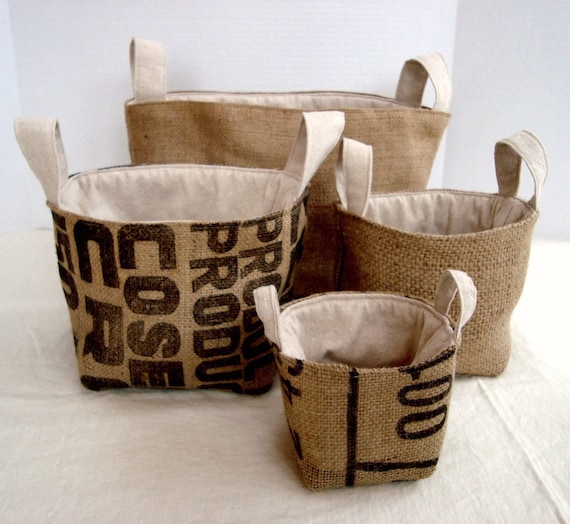 Burlap is easy to paint with fabric paint, just make sure you put something under it so the paint doesn't seep through and ruin your work surface. Wouldn't these be cute for toy storage, rolled up towels in the bathroom, or blankets in the living room? Love it.
My next idea was born out of gauze/muslin swaddling blankets. I ordered some gauze fabric and made a few myself, but I thought a dip-dyed version would be so cute! I'm still contemplating ordering some white gauze and trying this one. Interestingly, I couldn't find any pictures of what I'm talking about, but you get the idea, right? Dip some fabric in some dye. Use it to swaddle the baby.